Slow Pilot - Gentle Intruder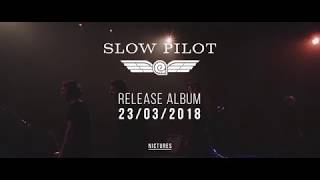 Slow Pilot is a new signing on our label Starman Records. They released their first single 'Dance The Night Away' back in 2014 which was picked up by Radio 1 instantly. In the last 4 years they performed in over 80 venues nation wide and also in the Netherlands. OLT, AB, Paradiso Amsterdam just to name a few.
Pieter Peirsman the vocalist of the band also did many shows as solo vocalist with the world famous band Hooverphonic. However Peirsman is also a songwriter and he surely proves that with this release.
Many fantastic musicians joined Slow Pilot to deliver an absolutely amazing album called 'Gentle Intruder' that deserves global attention. On Bass Maarten Van Mieghem (Yevgueni), guitar Sebastian Leye (Delvis, Noémie Wolfs) and on drums Laurens Billiet (Zimmerman, Douglas Firs). They are joined by Belgian Session Orchestra conducted by Cedric Murath. The album is recorded at ICP Studios in a prodaction by Jasper Maekelberg (Faces on TV, Warhaus, Amongster, Soldier's Heart,..) and mixed by no less than Jo Francken (Adamo, Milow, Stef Kamil Carlens,...)
The fantastic artwork is by award winning artist Stijn Felix.
The official CD Release will be in De Casino in Sint-Niklaas on April 4th 2018.
PRESS:
DE LAGE LANDEN (RADIO 2)
DAMUSIC (Interview met Pieter Peirsman)