Schmutz - Pillow Talk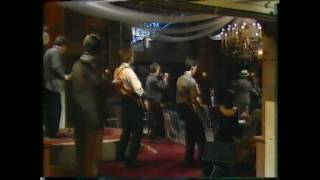 The Belgian New Wave band Schmutz always had a great talent for writing catchy synth based songs. The band was founded in de the early 80's and scored an international hit in '84 with "Love Games" which became since then a true Belgian classic, featured on multiple compilations. Schmutz toured as well in Germany, France and The Netherlands. After 1 excellent album in 1985 the band ceased to exist to be resurrected from its ashes the past couple of years with some highly apprecited live shows, proving that the fans have not forgotten this great band. Now the are finally releasing new material with the album "Pillow Talk": 8 brand new tracks, very much in line with the music from their initial heydays and supplemented with their most known songs from the past, remastered, in the original versions.
Schmutz is active again in its original line up: Guy Peeters (vocals), Johan Tyskens (bass), Jo Exelmans (guitar), Jos Claessens (guitar) Marcel Vermeulen (drums) and Danny Pex on keyboards, replacing the sadly deceased Carlo Peeters.
PRESS: