And Then Came Fall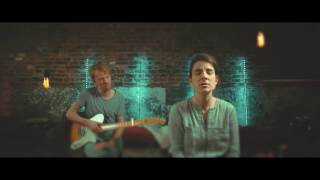 The official release of the full album was on February 6th 2018 with a concert in Het Depot in Leuven. The venue was packed and the show was a succes and a delight! At least 20 more concerts have been planned all over Belgium and the Netherlands.
And Then Came Fall is a soulfull band from Leuven (Belgium) founded by Annelies Tanghe (Iza, ZeeSter) and Sam Pieter Janssens (all-round musician and producer Klankman)

The project started last summer when Annelies and Sam recorded 4 demo songs at home.
And Then Came Fall sounds like a melancholic autumn trip. Songs about love and life. The music refers to artists like Feist, Corinne Bailey Rae, Carole King, Joan As Policewoman, Thomas Dybdahl, Fleetwood Mac, and many, many more.
They asked producer Koen Gisen (Bony King of Nowhere, An Pierlé, Hydrogen Sea, Sarah Ferri, ...) to produce the album at La Patrie (Ghent). The album was recorded in January 2017 with Steven Van Gelder (drums - Lady Lynn, Tout va bien, Pieter Embrechts, ...) and Jasper Hautekiet (bass - Admiral Freebee, Rhythm Junks, ...). Pieter Van Dessel (Marble Sounds) and An Pierlé provided vocal harmonies on a few tracks.
1. And Then Came Fall
2. Mirror
3. Disqualified
4. Homeless
5. Black & White
6. Over and Gone
7. Gambler
8. Take Us
9. Carved
10. Forget About Me
11. Biggest Enemy
12. Waiting Wall
PRESS:
DANSENDE BEREN (The concert @Trefpunt in Ghent on 02/22/2018)
DAMUSIC (About Biggest Enemy)
AND THEN CAME FALL Live on NPO radio 2